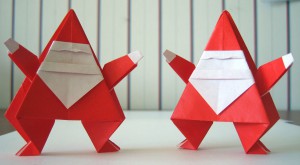 Are these not adorable? This origami Santa was designed by Linda Mihara. I took her class at the 2009 Pacific Coast Origami Conference and thoroughly enjoyed it. However, it was an afternoon class and my brain was over-full from the day's instructions.  I didn't get the figure quite right and later could not remember how to make it. Fortunately it is included in John Montroll's book: Easy Christmas Origami. I purchased the book and worked through the instructions…with more than a little help from my friends. Some people may find Montroll's diagrams and very limited instructions to be all that is needed, but I'm afraid I need more! 
I now have this guy pretty well figured out and can turn one out in a reasonably short period of time…fortunately, because I plan to use them on Christmas cards this year. I have come up with my own guidelines, landmarks and techniques for completing the figure so that it comes out right and usually will even stand up on its own. 
If you're up for some fun Christmas origami you might want to purchase John Montroll's book. It is a bargain on Amazon and is also eligible for Prime shipping.
 In the meantime, I am going to see if I can contact Ms. Mahara and see if she will give me permission to post my own instructions with photos. Please post a comment if you would find that helpful and it will help our case!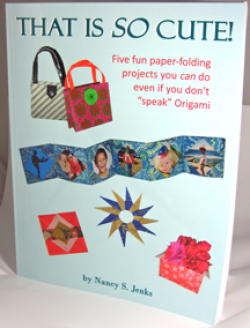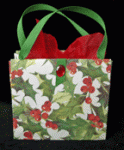 If you're interested in some fun, cute and practical Origami crafts for year-round decorating and gift-giving, take a look at my book. It is designed for origami enthusiasts AND beginners, with clear step-by-step instructions with photos — you do not need to understand traditional Origami diagrams to make these models! Just choose appropriate colors and thems for your papers and customize these items for the holidays.

The book is currently available on Amazon for $12.95; I am offering it here for $11.00 including shipping. (State tax will also apply for California orders.)